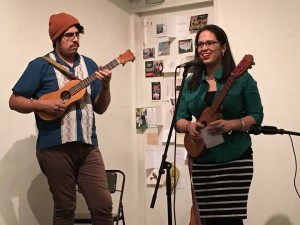 on Monday, 1/25, Ave 50 Studio in Highland Park hosted Kaya's LA launch event for Lydia. Chris Larkin performed his first live Carry Hatchet set, Jesse Bliss read some of her theater and poetry work, and Lilly Flor del Valle performed some son joracho.
it was a truly lovely evening; thanks so much to Ave 50 Studio, Chris, Jesse, & Lilly! and of course to Kaya Press, and to Neela Banerjee for organizing everything and
being a masterful emcee.
(original event description: samanthachanse.com/125-la-launch-event-for-lydias-funeral-video-with-jesse-bliss-kaya)