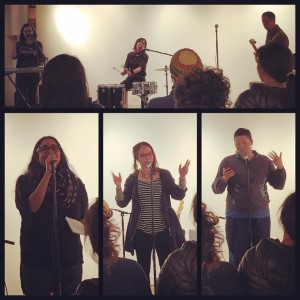 had a beautiful evening back at kearny street workshop on Monday, Feb 1st, for Kaya Press' SF launch of lydia's funeral video. it was amazing to catch up with beloved friends i hadn't seen in years–all incredible, brilliant, talented people.
claire light read a chapter of her amazing new novel, sadie contini & han wang of the  invisible cities performed a beautiful set–with special guest drummer (and singer!) melissa hung!–, and neela banerjee was a tremendous and inspiring emcee.
i did excerpts of the play–and also stumbled my way through a q&a led by claire (not my most impressive moments on the planet, but i appreciate claire's & other folks' questions, which i somehow managed to totally not answer, in spite of my best intentions).
much gratitude to everyone who made it happen and everyone who was there–it was such a joy to be in the space with everyone.
(original event description: http://samanthachanse.com/212016-lydias-funeral-video-bay-area-launch-with-claire-light-the-invisible-cities/ )