The Lark announces Rita Goldberg Playwrights' Workshop Fellows:
http://www.larktheatre.org/blog/announcing-2016-17-rita-goldberg-playwrights-workshop-fellows/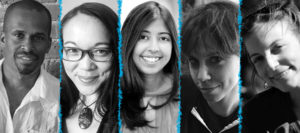 The Lark named five New York City-based playwrights as Rita Goldberg Playwrights' Workshop Fellows for the 2016-17 season. The group spans a wide range of backgrounds and professional experiences and will meet regularly throughout the year to develop new plays.
The Rita Goldberg Playwrights' Workshop, now in its 18th year, is one of The Lark's longest-running programs, bringing emerging and established playwrights together to explore new material without commercial pressures. Fellows meet twice a month to share new pages from plays-in-progress with a community of actors, directors, designers, writers and special guests.
The five fellows are Keith Josef Adkins, Founding Artistic Director of The New Black Fest and author of The People Before the Park, produced by Premiere Stages (2015); Sam Chanse, author of Fruiting Bodies, featured on The Kilroys' List (2015); Rehana Lew Mirza, recipient of a 2016 Lilly Award (the Stacey Mindich "Go Write A Play" Commission) and author of Soldier X, produced by Ma-Yi Theater Company (2015); Jen Silverman, author of The Moors, produced by Yale Repertory Theatre (2016), and the 2016-17 PoNY Fellow at The Lark (in partnership with Playwrights of New York); Anna Ziegler, recipient of London's 2016 WhatsOnStage Best New Play award for her play Photograph 51 (starring Nicole Kidman), and author of Boy (2016 John Gassner Award nominee).
"This program is designed not only to foster new work, but also to engage in urgent conversations with writers of varying perspectives," said Lloyd Suh, The Lark's Director of Artistic Programs. "We're thrilled to have such a dynamic and exciting company of fellows, each with such big ideas and visions. These are playwrights who are grappling with the most important issues of our time, with empathy and humor and rigor. We're so thrilled to have them do that work here and with each other over the year."
The program is led by esteemed dramatist and program creator Arthur Kopitand a group of leading American playwrights that include David Henry Hwang, Tina Howe, Terrence McNally, Theresa Rebeck, José Rivera, Lynn Nottageand Doug Wright, among others. Fellows are selected annually by a committee that solicits nominations from leading dramatists and artistic directors.  Program alumni include José Rivera (Marisol, School of the Americas), Thomas Bradshaw (Burning, Mary), Samuel D. Hunter (The Whale, The Healing), Katori Hall (The Mountaintop, Hurt Village), Dominique Morisseau (Skeleton Crew), Lisa Kron (Fun Home, The Verizon Play), Rajiv Joseph (Guards at the Taj), and Pulitzer Prize winner Lynn Nottage(Ruined), whose acclaimed play, Sweat, playing at The Public Theater this fall, was developed during her time as a Fellow during the 2013-14 season.
"Playwrights' Workshop was something I very much looked forward to every month," said Martyna Majok (Ironbound), a participant in the 2015-16 Rita Goldberg Playwrights' Workshop. "It is a place that supports risk and encourages bravery, where writing could be grand and wild and unsure. It is a genuine community of fellow strivers and seekers, who lovingly and consistently held you accountable to your own goals and dreams."
This program has been made possible with leadership support from longtime Lark trustee Rita Goldberg.  Additional support is provided by the Axe-Houghton Foundation and the John Golden Fund.