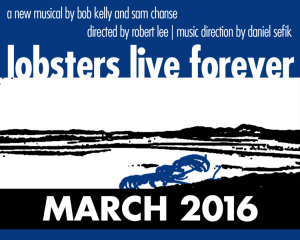 Bob Kelly & I are continuing to develop our one-act musical, Lobsters Live Forever, at a workshop through Gallery Players' Overtures program, in partnership with Leviathan Lab.
Originally commissioned by Leviathan Lab for their Ghost Stories Project, LLF is an adaptation of an Inuit folktale, and also incorporates elements of the hungry ghost of Tibetan Buddhist traditions.
The workshop runs March 23-29, with two public readings on March 28 & 29th:
Lobsters Live Forever
Book and Lyrics by Sam Chanse
Music by Bob Kelly
Presented by Gallery Players in partnership with the Leviathan Lab
Monday & Tuesday, March 28 & 29th, 2016
7pm
The Gallery Players, 199 14th St, Brooklyn, New York 11215
$10 (Free with AEA card)
Director – Robert Lee
Music Director – Daniel Sefik
Musical Theatre Advisor – Robert Lee
Dramaturg – Donatella Galella
Producers – Flordelino Lagundino, Alyssa Simmons

Featuring:
Angel Desai* – Thelma
Danyel Fulton* – Skeleton Woman
*Members of Actors Equity
Monday, March 28th at 7pm
Tuesday, March 29th at 7pm
note: piece is approximately 50 minutes long
Once upon a contemporary time, a lobster-chasing excursion on a haunted bay brings about a collision: two women confront the ambivalence and necessity of contact, and the pains and pleasures of being alive. Inspired by an Inuit folk tale and Chinese hungry ghost stories, Lobsters Live Forever delves into the impossibilities of perfection and the vulnerabilities of human connection.
Lobsters Live Forever is presented by OVERTURES, A New Musical Reading Series
Produced by Barrie Gelles and The Gallery Players
For more information about the OVERTURES series, please visit: http://galleryplayers.com/overtures