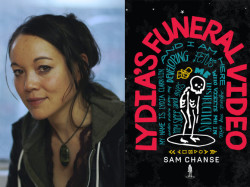 Next Wednesday, 9/23, beloved publisher Kaya Press is throwing a reading and launch event at Brooklyn's WORD to celebrate the release of Lydia's Funeral Video, a solo play (some of you know) i wrote some years ago.
Kaya is an incredible independent press (now in its 21st year!) publishing books of the asian pacific diaspora, and a home for writers, artists, readers, and lovers of books. I love their books, and I'm honored and humbled (and thrilled) that they published this play; and the book is beautiful; the crew at Kaya and Spoon+Fork (the designers) put in an incredible amount of care and time and love (as they do with all their books), and it shows (as it always does).
So naturally, I want to share Kaya and the book with all humans everywhere!
Please join fellow Kaya author (and Awesome Human) Ed Lin and Kaya and me at WORD next wednesday if you happen to be free & in nyc;
Whether or not you can make the event, please take a look at the book and at Kaya's catalogue (helpful links below!). if you aren't already a Kaya fan (or even if you are), and consider ordering a Kaya book (or two or three) for yourself or for a loved one (or for not-a-loved one; they also will appreciate).
And please to stop by Word (again, if you aren't already a fan, or even if you are);  it's an awesome space, and we're exceedingly happy that they're hosting this event.
Here's the information:
Lydia's Funeral Video at WORD
with Sam Chanse and Ed Lin
Date: Wednesday, September 23rd
Time: 7:00-8.30PM
Location: WORD, 126 Franklin St, Brooklyn, New York
Other stuff: FREE: there will also be some snacks & drinks. and books.
Celebrate the release of LYDIA'S FUNERAL VIDEO from Kaya Press.
Sam Chanse reads and then discusses the book with Ed Lin.
about the book:
Lydia's Funeral Video, a one-woman play that takes that most existential of quandaries — to be or not to be — and transposes it onto a dystopian not-so-distant future.
http://kaya.com/books/lydias-funeral-video/
Kaya

 publishes books of the Asian Pacific diaspora. 
Kaya Press is a group of dedicated writers, artists, readers, and lovers of books working together to publish the most challenging, thoughtful, and provocative literature being produced throughout the Asian and Pacific Island diasporas. We believe that people's lives can be changed by literature that pushes us past expectations and out of our comfort zone. We believe in the contagious potential of creativity combined with the means of production.
Please visit their website & take a look at all their books & authors:
please pass on to whomever you think might be interested, and thanks for reading.